Santa Barbara Baby Pictures
Six Month Sitter Session – Santa Barbara Baby Pictures
Around 6 months old, babies start to learn how to sit up.  This is such a great time to take "milestone photos" of your baby.  Here in our studio, we have everything set up for these types of sessions.  We have a variety of hand made outfits and props to compliment the session.  My favorite types of Santa Barbara baby pictures are those that are simple and focus on the baby.  I can help you select a few outfits and headbands or hats to give your photos a little something special, while still keeping it all about the baby.  I love textures, pops of colors, and layering fabrics.  I'd love for you to come by the studio and take a look at what we have and talk about a session for your little one.  Click here to contact us today.
Milestone Sessions
Santa Barbara Baby Pictures
Here in our studio, we structure our milestone sessions as newborn, six months, and one year.  This allows enough time to pass between photo sessions to capture the baby at a different stage.  Also, with this schedule, we feel parents are not overwhelmed with too many pictures to choose from.  We help our clients every step of the way when it comes to displaying and printing your photographs.  We feel the best way to get everything out of the photos is by printing it as wall art or in an heirloom album that will last for generations.  These days everything is digital and our problem is not having enough photos, it's having too many and not finding the time to print them properly.  That's why we are passionate about offering a full service studio experience for our clients.  We ask our clients to take photos of their walls and then mock up the pictures for the preview session.  We can't wait to chat with you about your session.  Contact us today!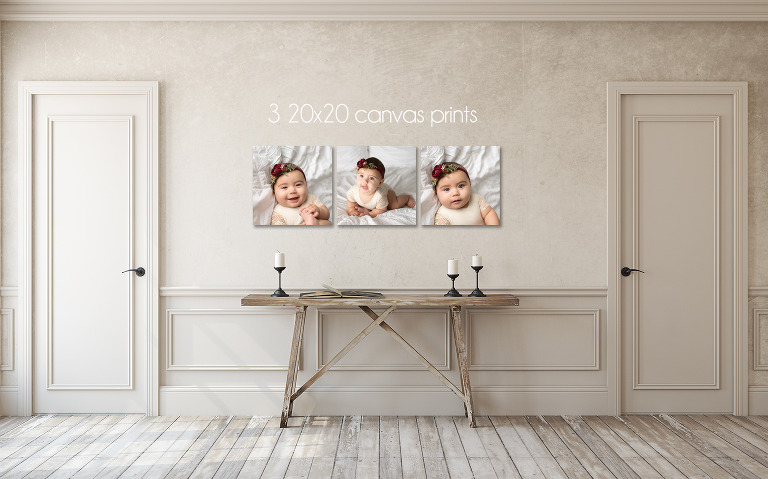 And take a look of the rest of this sweet little girl's photos.